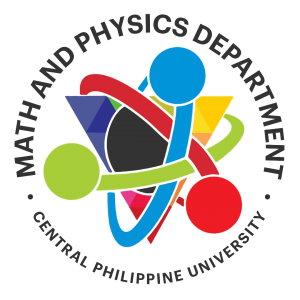 Department of Mathematics & Physics
College of Arts and Sciences
A department committed to provide students with quality mathematics, physics, statistics and natural science education responsive to the needs of man in the changing world.
Mission of the Department
 To maintain continuous quality teacher education through scholarships, seminars, study groups to keep teachers abreast with the changes in the field they are teaching.
To develop the spirit of unity and cooperation among teachers between teachers and students and among students.
To upgrade and to improve learning facilities and equipment.
To integrate Christian and moral values in the teaching of mathematics, physics, physical sciences and statistics.
Goals and objectives of the Mathematics and Physics Department
Goal : Globally Competitive and Adequately Prepared Graduates
Provides students with mathematical knowledge, skills and training that will enable them to meet the demands of the changing world.
Develop the students' critical and logical thinking , things which they need in problem solving and decision making.
Encourage the students to aim and to adopt a high standard of performance.
Develop the students' appreciation, interest and love for Mathematics, Physics and Natural Sciences
Goal : Competent, Committed and Empowered Faculty and Staff
Update and enrich syllabi.
Upgrade laboratory equipment, library and instructional materials.
Provide conducive and innovative learning environment to students.
Goal : Faculty, BS Math Students and Graduates Who have Sense of Social Responsibility and Accountability.
Active involvement in outreach and extension programs and other worthwhile activities and projects
Actualize Christian values by responding to the needs of others.
Program Offered : BACHELOR OF SCIENCE MAJOR IN MATHEMATICS
Benefits in Majoring in Mathematics
A degree in Mathematics, especially if accompanied by transcript showing good grades in Math courses, signals to a prospective employer that you are capable of learning the kinds of analytical procedures that are required in a given job or profession, even if those procedures are not specifically mathematical
By studying Math you:
Develop self confidence and positive attitude.
Become creative and open-minded
Develop the habit of critical thinking
Become hardworking patient and persevering
Such skills and attitudes are highly valued by employers as well as graduate and professional schools.
Employers recognize that if you can do Math , you can do any job that calls for precise analysis and careful deduction.
Who hires Math graduates?
Mathematics graduates have the opportunities to work in:
Accounting firms
Airlines and other transportation
Banks and other financial institutions
Consulting Firms
Educational Institutions
Government Agencies(PSA, Dep.Ed.)
Insurance Agencies
Insurance Companies
Investment Firms
Real Estate Firms
Research and Development Firms
Securities Firms
Telecommunication Companies
Industries
In government, education, manufacturing and services industries of many kinds, math majors get good jobs.
Possible jobs for Math graduates
Budget Analyst
Credit Analyst
Data Analyst
Data Base Manager
Data Processing Manager
Economic Analyst
Financial Analyst
Financial Consultant
Financial Manager
Insurance Agent
Insurance Underwriter
Investment Manager
Loan Counselor/Officer
Teacher/Professor
Risk Manager
Operation Research Analyst
 Production Planner
Purchasing Manager
Real Estate Appraiser
Securities Analysts
Statistician
Urban Planner
Compensation / Benefits Specialist
Financial Service Sales Representative
Inventory Control Specialist
Market Research Analyst
It's actually a blessing in disguise that I enrolled in the BS Math program. I was about to enroll in BSEd major in Math buy my fate brought me at the BS Math program and NO foundation: on how to set my goals and priorities, and how to achieve them through self discipline and determination. These contributed to my being prosecutor now.
Had it not been for my BS Math degree from my beloved Alma Mater CPU. I could not have found a job in Las Vegas, the entertainment capital of the world. I owe my Mathematical skills from the excellent professors in the Math and Physics Department.
America needs Science and Mathematics teachers for high schools. There is a lot of shortage of them here. The screening is tough so if anyone thinks of coming here, He has to be CPU- Educated.
Prof. Mylene S. Calibjo – BS Applied Mathematics(UP Visayas) (MAEd Math(CPU)) Ph.D Mathematical Statistics(China) – in progress
Prof. Tony Ray A. Canaman – BS Math (CPU) MAEd Physics (CPU)
Prof. Edgardo P. Gerada – BS Chemistry(CPU), Registered Chemist, MAEd Chemistry(Univ. of San Agustin), MAEd Physics(CPU), LET Passer
Prof. Nelie Ann C. Mesa – BS Civil Engineering(CPU), MM Educ Mgt.(PCU-Iloilo), MAEd Physics(CPU) – CAR, MAEd Admin. & Superv (CPU), LET Passer.
Prof. Fernita S. Monserate – BSEd Math, Cum Laude(CPU), MAEd Math(WVSU), PBET Passer
Prof. Luis G. Valdez Jr.  – BS Math(CPU), MA Math(UP Diliman)
Prof. Norma Luz C. Vencer – BS Math(CPU), MAT Math(UP Diliman), MS Math(DLSU), Ph.D (Science Ed) (WVSU) – In progress
Mr. Sunlight P. Alog – BSEd Math(CPU), MAEd Math (CPU) – in progress, LET passer.
Mr. Henry Caspe – BS Chem(USA), MBA(Aca Req)(AU, AdMSB, UPV), MA Math(WVSU)
Miss Jean B. de la Cruz BS Math(CPU)
Prof. Barbara T. Diaz – BSN(AUL), MS Math(WNC), MN(CPU), MDiv(Feast)
Engr. Ferdinand T. Monoso – BS Electrical Engineering (CPU), Registered Electrical Engineer , MAEd Physics(CPU) – in progress
Miss Rahjni S. Escare BSEd Physics(WVSU)
Mrs. Ma. Elna H. Pragale – BS Math(CPU), MAEd Math – in progress
Daisy Joy Catalan – BS(Math)(CPU)
Analyn Asturias – BSEd (Math)(CPU) Cum Laude, LET passer
Mary Rose P Magbanua – BS HRM (CPU)